new release: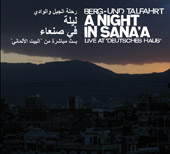 Berg- und Talfahrt - A night in Sana'a
live at "Deutsches Haus"
Peter Brötzmann, reeds
Michael Zerang, drums
Abdul-Aziz Mokrid, violin
Khalid Barkosch, cello
Achmed Al-Khalidy, kanun
Ali Saleh, ney
Yasir Al-Absi, darbuka
ARM 02
16,50€
Track list
Ya Min Hauwahu Azha-Hu Wa Adhla-Ni 8:51
Borne Back Home 9:54
Jumpin' And Rollin' 4:01
The 3 Back 2 For Procedure 7:26
Song For Fred 12:48
Ya Nasim Al-Sahri 7:03
Recorded 2004 at Deutsches Haus / Sana'a
Released: November 2009
Im Herbst 2003 kehrte ich von meiner ersten Reise durch den Yemen zurück nach Wuppertal. Im Gepäck weit über 100 Musikkassetten (Bericht auf talklang.de, Rubrik Yemen/Musikszene).
Peter Brötzmann interessierte sich für diese Musik, hörte sie und fand sie so faszinierend, dass er meinte: "da würde ich gerne mal hinfahren um mit ein paar Leuten etwas Musik zu machen".
Im Dezember 2004 war es dann soweit und wir flogen für zwei Wochen in den Yemen nach Sana'a. Brötzmann wollte unbedingt einen Trommler dabei haben. Also begleitete uns Michael Zerang aus Chicago, der selbst arabische Wurzeln hat.
Das Kulturzentrum in Sana'a hatte ein gutes Dutzend MusikerInnen für den ersten Probentag versammelt. Es war starr. Für den nächsten Tag reduzierten wir die Anzahl der Musiker auf fünf. Zäh vergingen die Probentage. Unsere yemenitischen Kollegen zeigten Misstrauen. Sie hatten den Verdacht wir nehmen alles auf und machen mit Veröffentlichungen das große Geld.
Die Musiker waren arabisch, klassisch ausgebildet und spielen im staatlichen Orchester. Von Improvisation hatten sie bis dahin nichts gehört. "Wie kommen wir zusammen" war die große Frage.
Im Herbst hatte Peter Brötzmann mehrere Stücke für das Chicago Tentet komponiert. "Schreib uns die Stücke auf" schlugen unsere Freunde vor. "Ich schreibe keine Noten" sagte Brötzmann. Abends gingen wir in einen Nebenraum des Arabia Felix. Brötzmann mit seiner Klarinette, ich mit dem MD Recorder um vier Themen aufzunehmen. Danach notierten sie sich die Stücke selbst. Aber es sollte auch yemenitische Musik gespielt werden, die Noten waren vorhanden. "Ich lese keine Noten" erwiderte Brötzmann. So nahmen sie ihrerseits zwei Stücke auf und Brötzmann hörte sich die Musik auf dem MD Player an.
Mit viel Auf und Nieder kam der Tag entgegen, an dem das Konzert im Deutschen Haus angesetzt war. Am letzten Probentag lief alles das erste Mal zu aller besten Zufriedenheit.
Das Deutsche Haus ist nicht sehr groß, doch wer soll überhaupt kommen? Letztendlich war der kleine Saal überfüllt, der Vorraum und der Hof mit internationalem Publikum gut besetzt.
Die nun vorliegende CD "Berg- und Talfahrt, A Night in Sana'a" enthält den vollständigen Mitschnitt dieses Konzertes. Die Aufnahmen sind nicht bearbeitet, bis auf den Stereo-Winkel, der etwas reduziert wurde.
In the autumn of 2003 I returned to Wuppertal after my first trip to Yemen. I brought back more than 100 cassettes of music (see Report on talklang.de, heading Yemen/Music scene).
Peter Brötzmann was interested in this kind of music, listened to it and found it so fascinating that he said: " I would like to go there and play some music with a few of the people".
This finally happened in December 2004 and we flew to Sana'a in Yemen for two weeks. Brötzmann was very insistent on including a drummer. So Michael Zerang from Chicago, who is himself of Arabic descent, came along.
A good dozen musicians had gathered together at the cultural centre in Sana'a for the first day of rehearsals. It turned out to be very formal. For the next day we reduced the number of musicians to five. The rehearsal days passed grimly by. Our colleagues from Yemen were untrusting. They had the suspicion we would record everything and make piles of money with the published recordings.
The musicians were Arabic, classically trained - and members of the state orchestra. They had never heard of Improvisation before. "How do we get this together?", this was the main question.
Peter Brötzmann had composed a number of pieces for the Chicago Tentet in the autumn of that same year. "Write down the pieces for us", our friends suggested. "I don't write down notes", Brötzmann said. In the evening we went into one of the adjoining rooms of the Arabia Felix. Brötzmann took out his clarinet, I took the MD recorder in order to record four themes. Then they wrote out their own dots for the pieces. But music from Yemen was supposed to be played as well, and they had charts. "I don't read notes", Brötzmann replied. So they, as well, recorded two pieces and Brötzmann listened to the music on the MD player.
After a lot of ups and downs the day arrived when the concert in the German House was scheduled. On the last day of the rehearsals, and for the first time, everything went to everybody's complete satisfaction.
The German House is not very big, but who would turn up anyway? In the end, the small hall was crowded, the entrance hall and the courtyard were filled with an international audience.
The CD presented here "Berg- und Talfahrt, A Night in Sana'a" is the full live recording of this concert. The recording has not been edited except for the stereo picture which was narrowed slightly.
Full Blast
Black Hole
Peter Brötzmann, reeds
Marino Pliakas, e-bass
Michael Wertmüller, drums
16,50 €
Brötzmann / Parker / Drake
never too late but always too early
(dedicated to Peter Kowald)

Peter Brötzmann, tenor sax, tarogato, a-clarinet
William Parker, bass, doussin gouni
Hamid Drake, drums
2 CDs 25 €
Uli Armbruster
Kamp 33
42349 Wuppertal
ulia

talklang.de
0162 856 1819
Wie kann ich eine CD kaufen?
Bei Anfrage erhalten Sie meine Konto Daten. Nach Eingang des Betrages erhalten Sie umgehend die CD per Post.
Bei nicht aufgeführten Brötzmann CDs bitte nachfragen.